Saturday officially marked one year since PlotBox made the decision to switch to remote working, allowing all teams to work from the safety of their homes due to the world heading towards lockdown. I remember that day in the office well, everything was still relatively 'normal', we were all just getting on with our day to day lives, however we knew it was inevitable that COVID-19 would breakout in Ireland and the UK but I don't think any of us really knew what lay ahead. I genuinely left the office that day thinking we'd be back in a few weeks... fast forward one year and we're all still working from home (or, some would say, 'living at work')
Pre-covid, it was a very rare occasion that I'd be working remotely. Whilst many colleagues would have worked from home regularly I could probably count on one hand the amount of days I'd do it in a year. So I knew that it was going to be a huge adjustment for me personally, but I embraced the change with open arms. Having reflected on a year of working remotely, here are my 'top tips' for staying happy and well whilst working from home:
#1 Discipline Yourself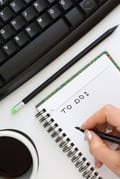 I'm a big fan of having a routine and planned to keep it this way when we switched to remote working. So I try to keep things as 'normal' as possible, to do this I get up, make breakfast and sometimes go a walk before I start work in the morning. The first thing I do when I open my laptop every day is make a quick to-do list for myself to ensure I prioritise my tasks correctly and set myself up for a productive day. Taking a lunch break is so important, but it's one of those things I noticed myself not doing from time to time because I'd make my food and then just work on through without realising. I've been working on this and trying to be strict with myself to actually close my laptop during my lunch break and go for a walk. I find that I am much more productive after I've taken a proper break for lunch.

Something else I found really challenging initially was separating home life from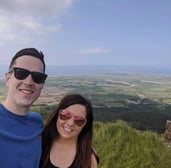 work life, as my home is now my office. I think anyone who has worked remotely will understand that this can be difficult to do, it requires discipline and forming good habits but it is so important. Sometimes I do tend to work a bit later in the evenings, but there's no expectation from anyone for me to do that. I've got much better with this as time has gone on and been strict with closing the laptop for the day. Given the year we've all had, you realise the importance of making time to talk to family or friends and also making time for your own self-care.

#2 Stay Connected With The Team
Settling into remote working was made much easier by having lots of opportunities to remain connected with the PlotBox team! We've always done team stand ups pre-covid and of course this is something each team continues to do on a daily basis via zoom so we can continue working together towards our shared goals. All teams in the company have also remained connected through Company All Hands meetings, where everyone joins for updates from Sean and the Senior Management team.

With that being said, being a very sociable person I knew I was really going to miss our social activities. However, our Social Committee has been keeping us entertained through all the lockdowns on our social slack channel where we've actually got to know each other a lot more through games like 'baby picture guess who' and of course our pet show and tell! Zoom quizzes, a virtual hen party, payday pints and Pictionary are a few of the other things the Social Committee have organised!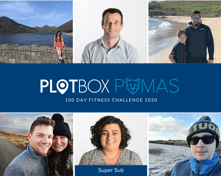 We also signed up for a 100 day fitness challenge, which caused some friendly competition amongst all the teams who participated. This was the perfect distraction from everything going on in the world, and the icing on the cake was my team finishing at the top of all the PlotBox Teams - Go Pumas! Everyone enjoyed the challenge so much, that we're all raring to go again and patiently waiting for the next challenge to begin!
#3 Be Grateful That Remote Working Is An Option
I'm sure everyone on the team would agree that we're all so grateful the company made the decision to switch to remote working ahead of lockdown being announced. Unfortunately for many frontline workers, remote working is simply not an option they have. I'm truly grateful that with everything going on in the world, I can continue developing my career from the comfort and safety of my own home.

Every team has always been really supported with career progression and regular check-ins pre-covid, and this remains the same since switching to remote working. We all still have regular check-ins with our managers and the company places a focus on our mental health and well-being too. Although I don't have any children myself, it is so refreshing to see PlotBox acknowledging parents are juggling remote working with homeschooling and they've been so supportive of this and offered flexibility in terms of working hours, to allow parents to adjust appropriately.

I love being part of a company who not only care about career progression, but truly care about their employees well-being and happiness. This has really shone throughout this year of remote working and I couldn't be happier to be a part of the PlotBox family!


Laura is the Marketing Team Lead with PlotBox and joined the team in 2016.
When she's not doing all things marketing, Laura enjoys going on walks around Derry with her boyfriend Ryan.

---

If you want to join Laura and be part of something amazing, check out our open roles here.