I used to think of career mobility as promotion and climbing a ladder. But that is not always what we need, sometimes career mobility means a journey to a better work life balance and being happier overall. That is what I am proud to say has been my experience in PlotBox.
I joined Plotbox in 2018, leaving behind a role in one of the 'big 4'. It was a risky move and I'm sure there were friends and family who thought I was mad. I had a great feeling though, PlotBox was an exciting prospect, I felt comfortable and welcome in my interview and I knew I would get lots of valuable PM experience. It was everything I wanted to help me move forward in my career and it was on my doorstep, something that meant a lot to me having a young family.
I couldn't believe my luck. I came into the company as an Assistant PM but was very quickly trusted with my own Projects and this really allowed me to prove myself. In PlotBox I was given opportunities to show my worth and that worth has been rewarded and acknowledged over and over again.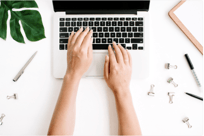 Within a smaller company there isn't always a specific role for every single task, especially when you are growing rapidly. I was able to get stuck in writing process maps, test documents, help articles and had a real sense that I was growing and achieving great things in my role. Something which I don't think I had experienced in any other job. That sense that you are truly appreciated for your hard work and where you get a variety of tasks to build on your experience.

Fast forward a year after starting in PlotBox and I was promoted to Project Manager; PlotBox had proved to me again that they were not just paying lip service to me and my development. Keeping me happy and secure in my role meant rewarding me correctly. And I cannot begin to tell you how refreshing that was, how comforting and reassuring it was that things were going in the right direction and my hard work was paying off.
My role and projects were challenging and I was very much settled into my team, I was working across several different time zones and felt that I had access to lots of interesting work. And then a global pandemic hits us, and when I say hit I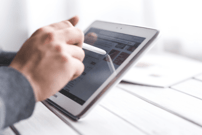 mean that in every sense of the word. I was now not only a Project Manager but also had to try (and fail miserably at times) to fill the shoes of a teacher with two children who had to be homeschooled. It was a stressful time for everyone, home was work and work was home. And now my role and responsibilities were completely overwhelming. It was so much harder for me to just do my job, any thoughts of excelling seemed unachievable. This is no doubt how most parents felt over the past year, full of guilt, fear, hopelessness. Not a great place to be. It made me feel that the way I worked as a parent had to change, what I was doing was not sustainable.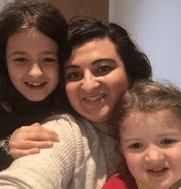 And then a role for Customer Success Manager came up, it would mean a career path change, it would mean a new team, different types of interaction with customers, lots of new challenges, lots to learn. But, most importantly for me in these very strange times, it would give me the work life balance I really needed. I took the plunge; my new manager took the chance on me (cheers for that Gareth!) and I am so grateful. I am grateful that when I needed a change the opportunity was there within PlotBox.
I can honestly say that I love my new job. I have been in the role for 4 months and feel fulfilled, content and excited for what is to come. I am struck by how PlotBox listens to their employees and acts on what they hear. I believe that this is so important, and something which other companies much bigger than us could learn from. I am proud to be a part of a company that is progressive, takes their duty of care for employees seriously and empowers and enables fulfilling, meaningful and enjoyable careers(s) - yes plural - from within the business.




Dawn is a Customer Success Manager with PlotBox and works with our Customers to ensure that they are getting the best out of our Product.

Dawn joined the team in 2018 as an Assistant Project Manager. She lives in Ballymena with her husband Owen and two little ladies Callie and Cara. She loves baking with her girls and reading a good book.

---

If you want to join Dawn and be part of something amazing, check out our open roles here.