Claire Melville joined the PlotBox team a year ago, having graduated from Queen's University Belfast. Here she describes her role as a Customer Application Support Consultant and how she provides support to PlotBox customers during a typical day.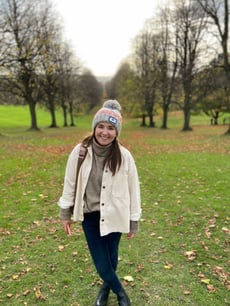 When I started at PlotBox , my first week was full of meetings which helped me get to know all the teams and learn about the product. My goal was to become familiar with the software, so I'd be able to support our customers. It wasn't long before I was answering customer queries by myself and gaining experience with customers from UK/IE, USA and Australia. Even if I didn't know the answer there was always someone there to help!
A day in the life of a Customer Application Support Consultant varies depending on what our customers need help with – this keeps it interesting! At the start of my day, I'll check my emails and messages to see what issues were reported while I've been offline. As a team, we support customers from different time zones and it's important to keep up to date on any current issues.
There are several things customers can need support with, from how to use the product, to an issue they need help with. If it is something that needs to be fixed by our development team, I test it out on one of our test sites, gather as much information as possible and raise a ticket. I'm responsible for assessing the priority of the issue and keeping the customer updated.
Throughout the day I monitor and pick up any new calls while making sure my queue is up to date and completing any other tasks I have. I work with our Customer Success team, who provide support throughout the year from when a customer goes live. I check in regularly with the customers assigned to me via email and Zoom, making them aware of any updates that could be relevant to them, addressing any issues they may be having, and passing on any feature requests to our Product Team.
My last meeting of the day is our team 'stand up', when we discuss what we've been working on that day, along with any outstanding issues and generally catch up as a team. They've been great whilst working remotely at helping keep us connected – it's one of my favourite parts of the day!
Every day is different depending on what customers need help with and I am constantly learning new things!
If you want to join Claire and be part of something amazing, check out our open Customer Application Support Consultant role here.