PlotBox Records Management
This essential PlotBox module is one of the foundations of effective cemetery management.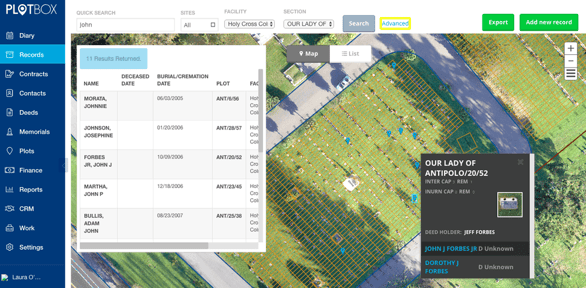 Effectively manage your electronic records
Fast, efficient and user friendly, PlotBox's records management system for cemeteries and crematoria intuitively brings deceased electronic records together into a single, quickly searchable database.
With one click you can see who owns and who's buried in the plot, along with other related records, including images of headstones, paper records and linked locations.
Generate lists for powerful reporting
Our advanced search function allows you to apply a range of filters on records, making it a powerful reporting tool, as well as helping to perform a range of administrative and operational tasks, key to effective cemetery management.
Key features:
Quick names search feature takes you directly to clearly viewable site map

Advanced filters narrow search by date of death, birth date and occupation

Advanced search shows impact with contracts, payments reports, CRM etc.

Export results directly into Excel