Why PlotBox is Different?
Not all deathcare software is created equal
When you partner with us, we work together to protect your legacy, allowing you to confidently plan for the future. We understand that it's normal for service providers to lack confidence in their data due to disjointed systems, outdated practices, and changes in record-keeping over time. Innovative PlotBox solutions enable you to find and resolve any issues or discrepancies, giving you complete confidence, control and visibility of your data.
Multiple sources of data means deathcare professionals are more like detectives - piecing together pieces of a puzzle from many different places.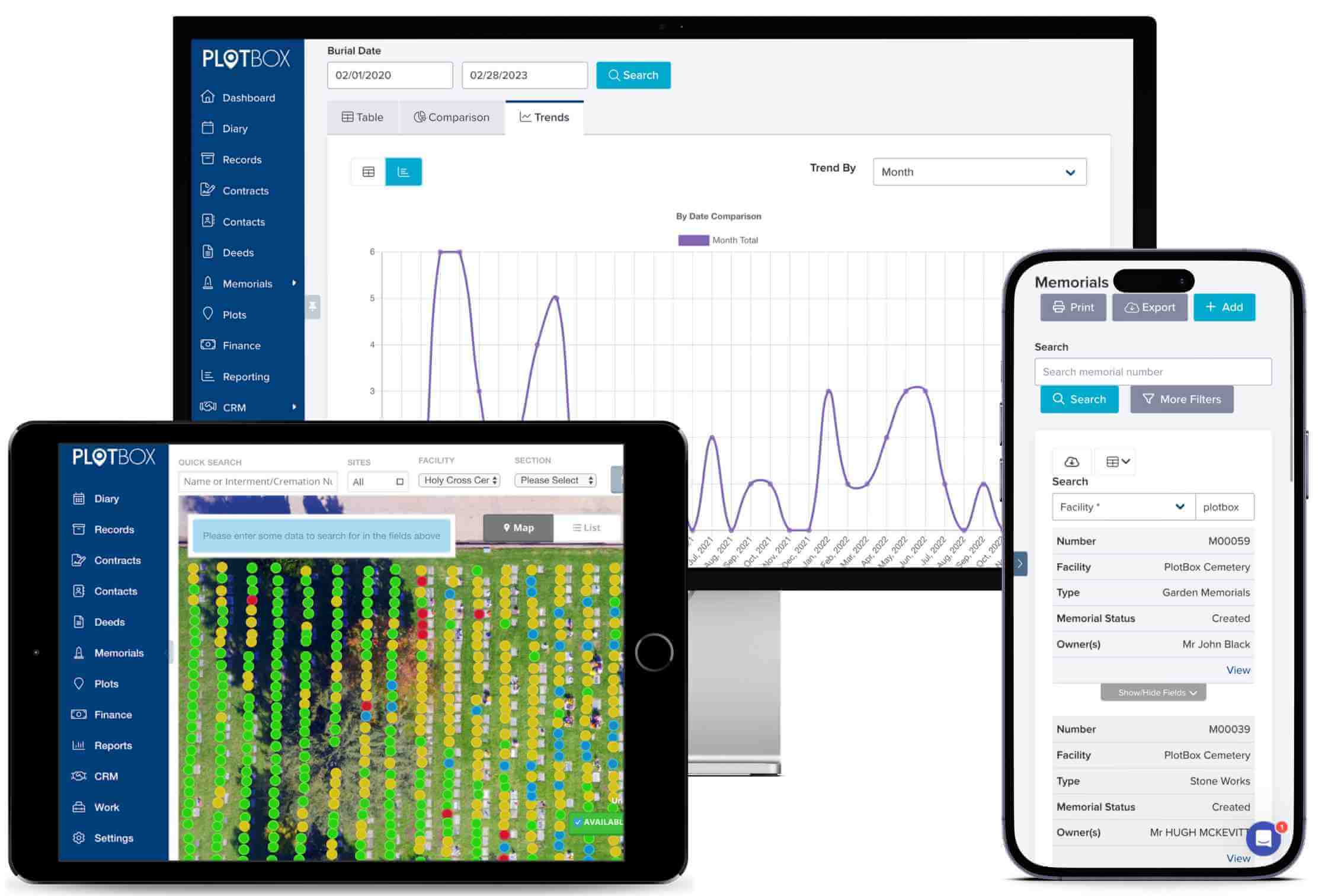 A Single Source Of Truth
Deeds, plots, finance, contracts, mapping and more. All of your data in a single, seamlessly integrated system - providing smarter workflows, greater accuracy, better communication and increased efficiencies.
Harnessing The Power Of AI
Our powerful suite of Inventory Intelligence tools, including smart data verification and audit reports, allows you to integrate your data, and are proven to identify risk, errors and uncover hidden inventory.
A Solution Unique To You
No two organisations are the same. That's why we've made PlotBox fully configurable. Our configuration management system provides a wide range of options to configure data and permissions used throughout the system to your requirements.
Future-proofed
We continually listen to our customers to ensure our solution is the best it can be. When we make updates to PlotBox, you receive them automatically and at no extra cost to your business. Keeping you up-to-date at all times.
A Clearer View Of Your Inventory
Integrated software and mapping means you can quickly find what you're looking for, while inventory updated in real-time means you know exactly what you have at all times.
Real Time View
Our date and time stamp feature lets you know exactly what was updated and when - for greater accountability and more streamlined audit processes.
Visible Support
No more wondering when work will be completed. Our support portal lets you track the status of ticket requests, keeping you in the know at all times.
Return On Investment
Reduce time spent on routine tasks by up to 78%! In addition, discover how PlotBox is reducing the liability of risk for busy deathcare providers and uncovering untapped inventory!
Security Assured
PlotBox is Cyber Essentials certified, meaning we have taken all necessary steps to guard our organisation against the most common cyber attacks.
Highly Configurable
Stay firmly in control with user access restrictions and provide teams with quick and easy access to what they need most with configurable, personalised dashboards.
Learn more about how we can help you to minimise risk