cemetery software
Maximising Plot Management: Introducing our Plots Module
PlotBox's plot management system with integrated mapping software pulls together all of the information cemeteries need to manage and record plots.
At PlotBox we want to ensure our customers get the most from our product, so we are continuously improving aspects of the system by taking on board any feedback.
Our Plots module allows our customers to search through their facilities using a range of search criteria. This information can be exported for reporting purposes in a range of formats including PDF, CSV and excel.
Why is Plot Management Important?
The ability to manage plots is huge for our customers. Using PlotBox, our customers can easily view a map of their cemetery for a visual representation of available, empty or full burial plots, without leaving their office - an ideal solution for those rainy days!
The ability to do this also saves our customers time, as they can use the 360 degree plot view as a sales tool when families are on site.
Using our Plots module, customers can filter their searches using a range of criteria, including: 'Plot Status', 'Plot Type', 'Risk Assessment Status', 'Capacity' and much more!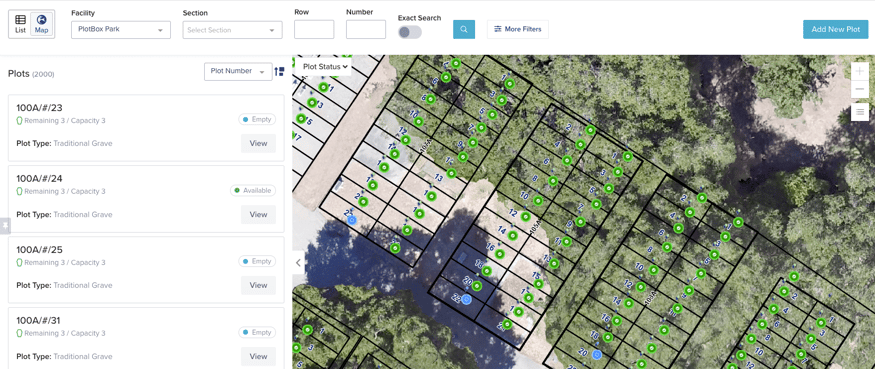 Digital Mapping With PlotBox
Using Digital Mapping greatly reduces the risk of double selling plots, as our customers can view in real time what plots are sold and what plots are available.
Using PlotBox, there is potential to uncover any available plots with GPS surveying, which could in turn create more revenue for the customer!
PlotBox also allows our customers to quickly find plots when on out on site. Plots are mapped exactly to their latitude and longitude for an accurate map reading, which is very beneficial when our customers are asked where specific graves are on their site.
Genealogy
Plot and genealogy information is also available on Discover EverAfter which connects users to the location of their deceased family and friends.
From this search, users can view a dropped pin on the cemetery map which is linked to the plot number where the deceased is buried, alongside other information shared from our records module.
New Updates
Recently launched, we have made significant updates to our Plot Management Module, where our customers have visibility with an interactive map on current plot inventory status.
PlotBox is a cloud-based application and can show inventory on any device when on the go! With one click, our customers can see their search results when on site, at the plot or in the cemetery.
Customers can choose their own view when searching and viewing information, to display fields that are important to them. This is beneficial to all users, as for example an Office Manager may need to view and export different information than Grounds Crew.
---
We'll soon be kicking off our recruitment of a range of roles at PlotBox - from developers and data migration, to sales and customer success. Keep up to date with our open jobs here.
Would you like to know more about PlotBox? Click the link below to speak to an expert.