pre-need cemetery sales
How PlotBox Helped Esker Lawn Manage Their Pre-Need Plots
Learn how Esker Lawn streamlined their pre-need cemetery sales processes using PlotBox's cemetery management software solution.
Kindly choose your preferred language by clicking on the globe icon and selecting your desired option from the available choices.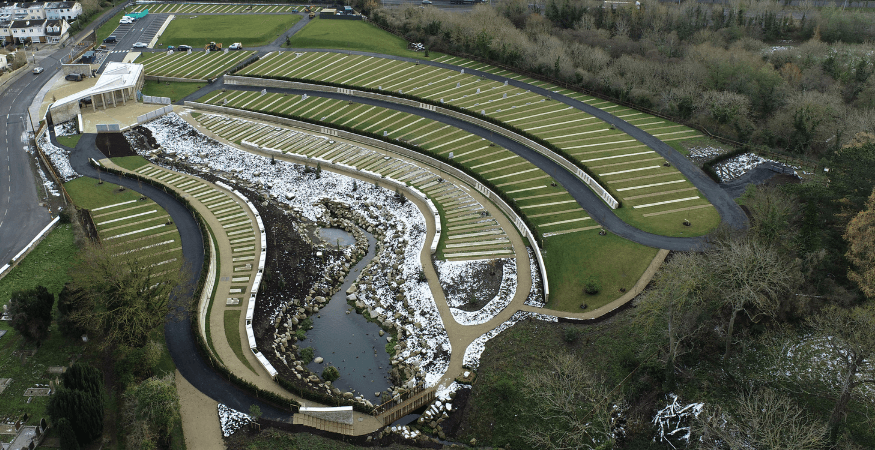 | Read time: 4 mins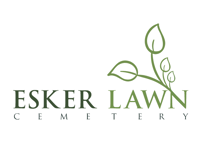 Located in Lucan, a catchment of South Dublin, Esker Lawn opened its gates in October 2022, following a decade-long project that transformed a Brownfield site into a beautiful, new lawn cemetery.
Its elegant, sympathetically designed grounds provide space for over 3,400 plots, sitting within a network of tree-lined pathways, accommodating multiple traditional and ash burial plots, as well as inurnments and memorialisations within its columbarium memorial wall.
With the South Dublin City Council-operated Esker Cemetery closed to new burials, and with the area continuing to develop, it made sense to Esker Lawn's principals to investigate the possibility of opening a private cemetery in the disused grounds opposite.
Operations Manager Paul Cullen explains,
"With the original council-operated cemetery at capacity, we wanted to provide Lucan's growing community with the opportunity to be interred close to their loved ones.
Our vision was for an alternative space, suitable for burial that was in keeping with the natural surroundings. Landscaped over a number of levels, and arranged in a 3-tier effect around a feature lake, the grounds are divided into small segments, helping to make each feel special.
Unusually, and by design, standing within the cemetery, you are greeted with a 70% natural vista, comprising mature trees and hedgerows."
Providing a range of both above and below the ground burial options, incorporating vaults and vertical structures was always part of the plan, as Paul continues,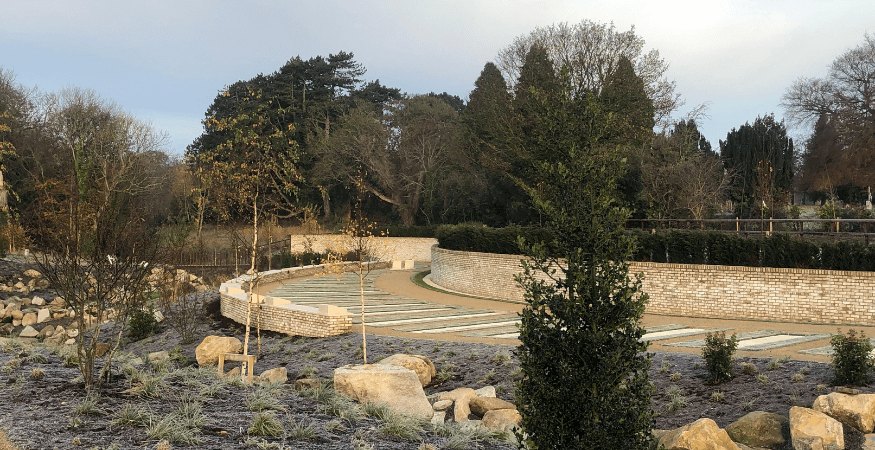 Pre-need and the rise of cremation
"We wanted to provide a variety of options for families, and with cremations on the rise - currently sitting at around 50% in Dublin - it made sense for us to develop a substantial portion of the site for ashes in order to meet that growing need.
With a business model based on making all options available for pre-purchase, and with hillside views over the neighbouring cemetery proving popular, Esker Lawn saw exceptional demand from those wishing to purchase plots at pre-need.
A Day forward approach
As a new cemetery creating new contracts, a 'day forward' approach was required, one which would allow the Esker Lawn team to start inputting contract information from day one, as well as backfilling and back dating as required.
Paul continues,
"I already had experience working with PlotBox at a previous cemetery. When we were looking for a cemetery software management solution, we wanted something that was safe, secure and easy to use.
That's what we found in PlotBox - a system that could handle everything, from the front office, to sales, inventory and plots…right through to finance.
For us, the two major factors were: storage of data offsite, and the removal of as much paper as possible. Essentially, we wanted to be able to operate from a laptop from anywhere, ensuring that we wouldn't be unduly affected by any form of exceptional event.
And in this way, I knew PlotBox could provide everything we needed here at Esker Lawn - in terms of allowing us to manage our records digitally, and in completing both pre-need need and at-need contract information."
Streamlined sales processes
"To that end, PlotBox provides us with a 360 degree view of the whole business. All of the information we need is at our fingertips, streamlining our sales processes - from creating purchase agreements, to accepting payments and completing contract information.
We can then easily pull reports across dates that show us exactly, at any one point in time, where we are and what we have."
With the first contract having been written in October, any manually generated purchase agreements have now been migrated into PlotBox, with a numbering system in place, along with scanned and uploaded paper documentation from agreements not originating within PlotBox, to complete the picture.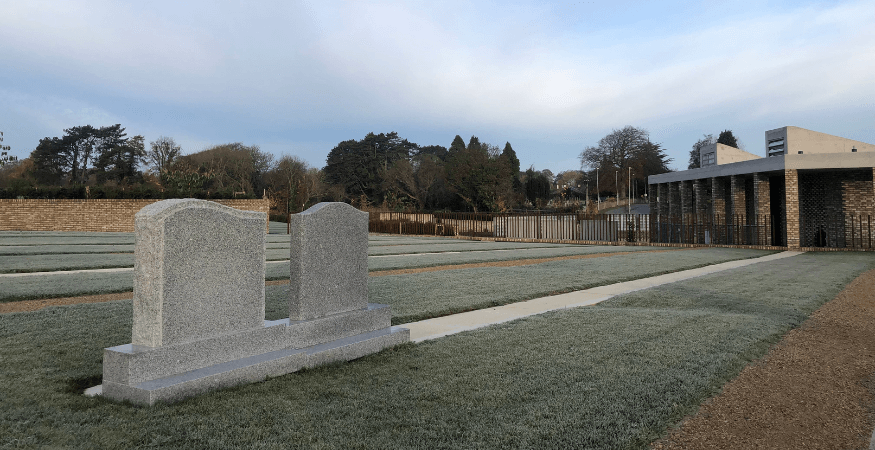 Digital cemetery mapping
Detailed ordnance survey maps of the site were supplied by the architect, onto which grids were overlaid to create inventory with plot types.
The PlotBox digital mapping team used aerial drone flights to take high resolution images of the cemetery grounds, as well as to plot out the columbarium wall vertical plots, verifying the information and creating digital cemetery maps linked to plot and record information.
"Integrating the digital cemetery maps with the software means that we can quickly and easily pull up all of the information we need at the click of a button. In terms of managing our inventory, we can pick a plot and can see all of the information relating to it - what's available, what's on hold etc.
Again, when looking at pre-need cemetery plots, we know that the fee structure is correct by plot type, rather than having to cross-check against price lists, saving time and reducing the risk of error."
"The Golden Gate" Scenario
"We want to walk before we run", says Paul.
"We are using PlotBox as we need it. In effect, we're starting at one end and working our way to the other, and PlotBox provides the functionality to do that."
Key to the implementation was finding a solution that was bespoke to Esker Lawn's individual needs, as PlotBox Customer Success Manager Dawn Gregg explains,
"Working alongside our Solutions Consultant, we were essentially provided with a blank slate in which to create a system configuration that would help to ensure optimal process alignment for the Esker Lawn team.
Together, we looked at their processes to ensure that we had a PlotBox solution for every need. That also meant providing the scalability for the solution to grow as they do."
PlotBox CEO, Sean McAllister said,
"No two transformation projects are the same, so it's important to work in close partnership to deliver a solution that best meets the customer's needs.
We're delighted that this day forward project has allowed Esker Lawn to hit the ground running through the contract management of their pre-need service, and provides the scope to support every aspect of their operation as they move forward."
---
Like to know more about digitally transforming your organisation?