Cemetery Memorial Management Software
Streamline Your Memorial Management
Streamline your memorial management process, improve communication with your grounds teams, ensure compliance, and enhance visitor safety with PlotBox's comprehensive memorial software module.
Our platform provides all the necessary tools to efficiently manage your memorials, optimizing processes and streamlining workflows for seamless operations.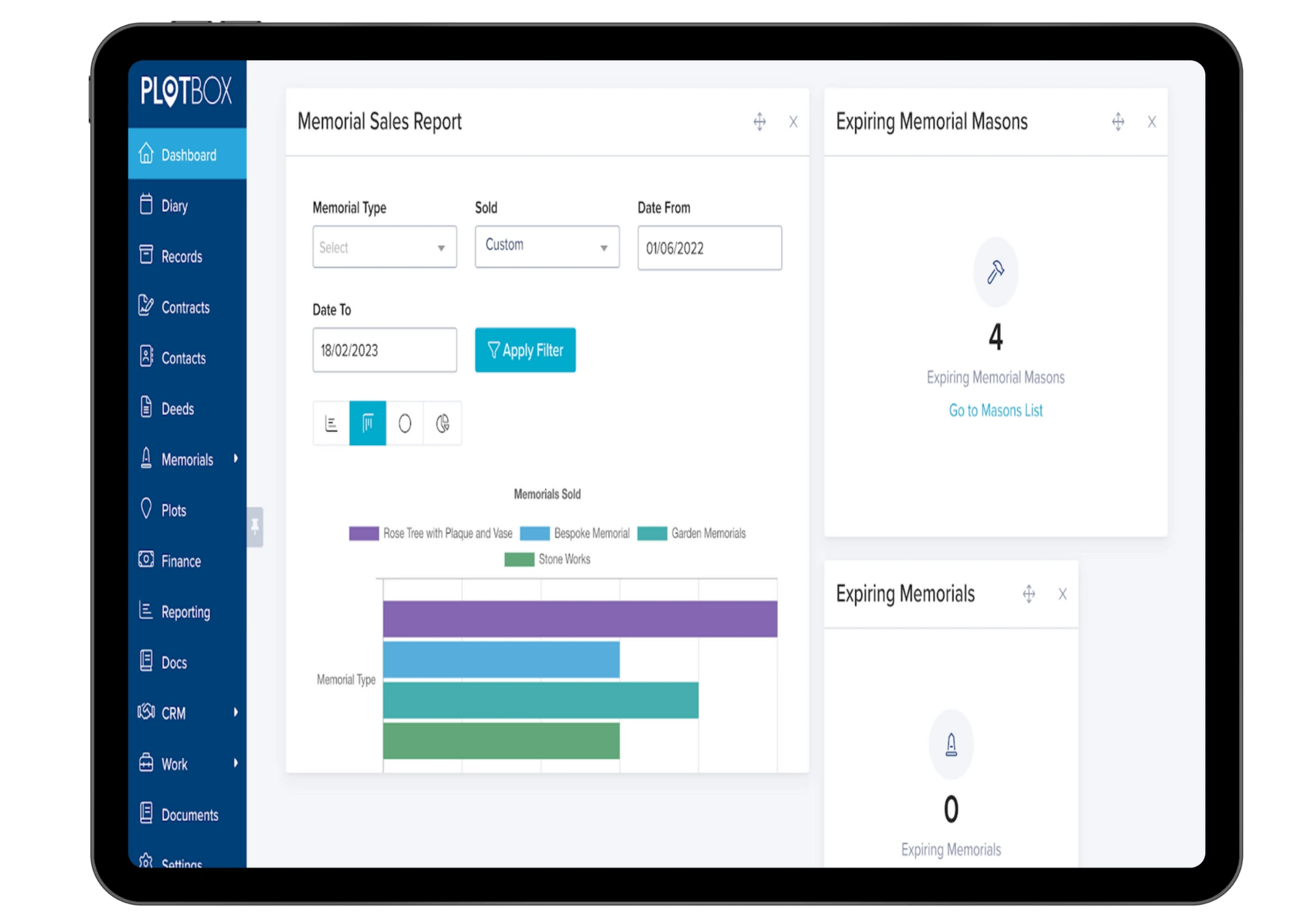 Orders

Record all memorial information in PlotBox, to generate agreements, orders and checklists.
Renewals

Receive expiry notifications and automatically produce reminders for families.
Compliance

Carry out memorial safety inspections, upload photos, inspection schedules and reports.
Key Features of Memorial Management
Record supplier details
Process checklists
Auto-produce printable agreements and order forms
Link auto reminders for renewals
Expiring memorial dashboard
Capture detailed info on font, colour, and type
Free text box for writing inscriptions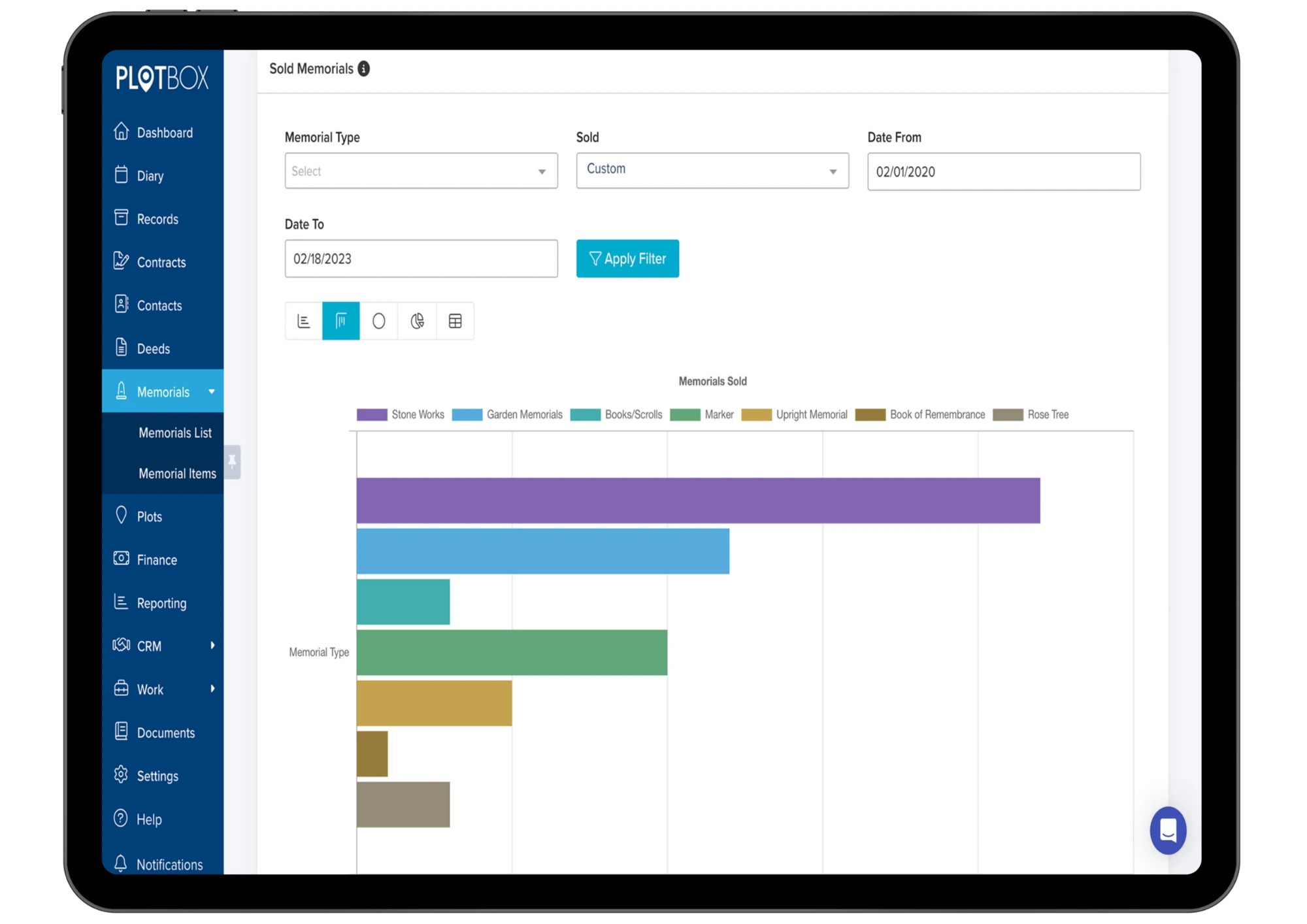 Like to learn more ?
Download our solution one pager for more information.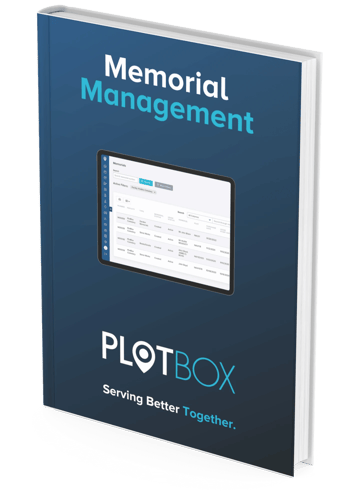 What is cemetery memorials management software?
Cemetery memorials management software is a digital solution designed to help manage your memorials more efficiently, improve communication with your grounds teams, stay compliant and keep your visitors safe.
How can cemetery memorials management software benefit my cemetery?
The software includes process checklists that guide cemetery staff through various tasks and procedures related to memorial management. These checklists ensure that no step is missed, providing a systematic approach to enhance efficiency and accuracy in memorial-related processes.
What benefits can I expect from using PlotBox's memorial software module?
By utilizing PlotBox's memorial software module, you can expect several benefits. These include improved efficiency in managing memorial processes, streamlined workflows, enhanced communication with grounds teams, compliance with regulations, and increased visitor safety.
How does PlotBox's memorial software module enhance efficiency in managing memorial processes?
PlotBox's memorial software module provides a centralized platform where you can efficiently manage all aspects of memorial processes. It offers features such as digital record-keeping, automated workflows, and task management, reducing manual effort and streamlining administrative tasks.
We've got a variety of other modules at your disposal. Care to explore them?