Mapping with PlotBox
Integrated cemetery mapping and software
PlotBox is the world's first solution to fully integrate two previously separate functions - cemetery management software and Geographic Information System (GIS) mapping.
Combining the two provides greater overall functionality and unlocks added value from all PlotBox modules.
"Google Maps for Cemeteries"
This powerful online cemetery mapping tool utilizes high resolution aerial drone imagery for a truly digital cemetery burial plot map, showing locations with plot reference, linked to records within the PlotBox database. This means you can search by deceased record, plot owner name (and much more) to find what you're looking for, quickly and easily, and view the location clearly on a high-resolution map.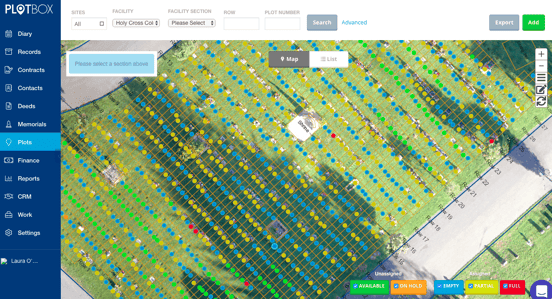 Our verified mapping process provides a forensic audit of your inventory, linking all record data to a location. This real time status provides visibility of your inventory and is accessible from any device at any time, reducing risk and even identifying extra inventory for sale.
We offer a range of mapping services to support cemetery operations - we'll work with you to discover the best options to suit your needs.
Key features:
Accessible on any device

Real-time inventory status

Links all record data to a location

Optional high res drone photography

Optional existing map overlay

Optional data matching audit / verification