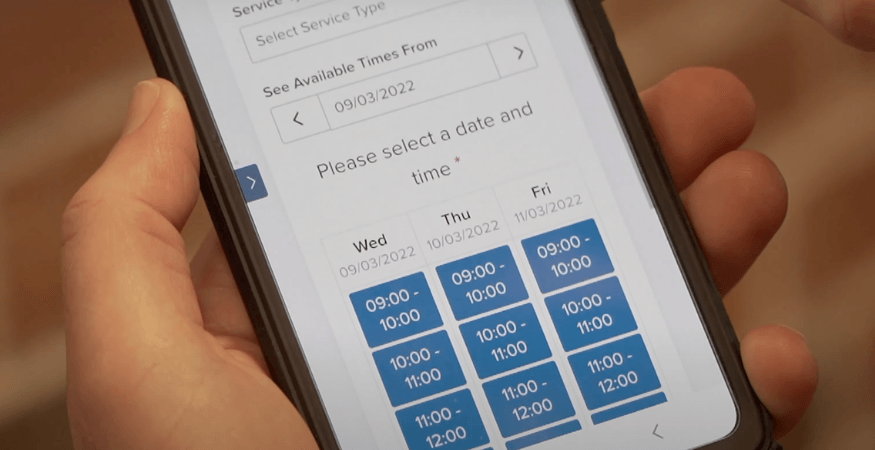 We know that the days and weeks following the passing of a loved one are filled with a myriad of practical considerations, decisions and arrangements.
And as families navigate these most challenging of times, always there to provide a compassionate, guiding hand is invariably the funeral director. As the all-important link between the family and other key deathcare services, funeral directors act as planners, facilitators, organisers and logistical experts.
Good communication between bereavement service partners is therefore key to ensuring an experience for families that is as seamless as possible. That means cemeteries and crematoriums having the ability to provide funeral directors with access to the right information in the right place at the right time.
The PlotBox Funeral Director Portal provides Funeral Directors with 24/7 online access to view and request booking slots from cemetery and crematorium diaries - helping to streamline processes, improve communication, and reduce staff admin time - ultimately providing a better experience for customers and the families they serve.
Gone is that dreaded Monday morning catching up on out of hours weekend bookings. Now, the funeral director can simply log on and book a provisional slot for cemeteries or crematorium teams to approve.
So what does this look like in practice?
Wirral Council Cemeteries and Crematorium Service operate Landican Cemetery and Crematorium, as well as 9 cemeteries. In 2021, they implemented the PlotBox Funeral Director Portal in response to the business critical need for digital comms at the height of the pandemic.
We spoke with a number of funeral directors operating in Wirral about the benefits of using the PlotBox Funeral Director Portal since its implementation by Wirral Council.
Having been in the business for 27 years, Ian Dallinger, owner of Ian Dallinger Funeral Directors in Wallasey on The Wirral, established his own Funeral Directors in 2015. Here he describes a typical process of booking slots when with the family prior to having access to the portal:
"We'd have to phone the crematorium, then we'd go back to the family, speak to them about the time slots that were available, back on the phone to the crematorium to ask about availability - and you were to and fro between phoning the office and going back to your family."
A key benefit of having instant access to diary information is the family being able to make decisions there and then, as Ian explains:
"The Funeral Director Portal has made the job much easier. You can literally visit a family at home, bring up the crematorium diary on your phone, and you can talk through the family with what times are available…and they can choose one themselves that suits them best."
Bereavements, of course, don't keep regular office hours, and often funeral directors may need to physically go to the cemetery or crematorium out of hours or at the weekend to complete a paper diary booking request - meaning a wait for families, and potential backlogs for cemetery or crematorium staff.
Susan Porter, owner of Susan C. Porter Independent Funeral Directors has been a funeral director for nearly 25 years. Here she explains how diary visibility outside of regular working hours has helped to address that issue:
"The benefit of using the portal is that we can get a date and time immediately for the family. Maybe there's certain reasons why they want particular dates and we have access to that over the weekend and after hours."
Steven Belmar is principle funeral director at Belmar & Liston Funeral Directors On the Wirral. Here, he reiterates the benefits of having greater mobility and visibility when with a family:
"We find using the PlotBox portal very good. It's convenient, it's helpful, and we can access it 24 hours a day. We can do this over weekend, evening, early morning. It benefits our families greatly, to the extent we can have a minister or a church on the phone, we can have a family with us and we can access the diary 24/7."
---
Discover how your facility can streamline your booking processes and free up time for your staff. View the video below: