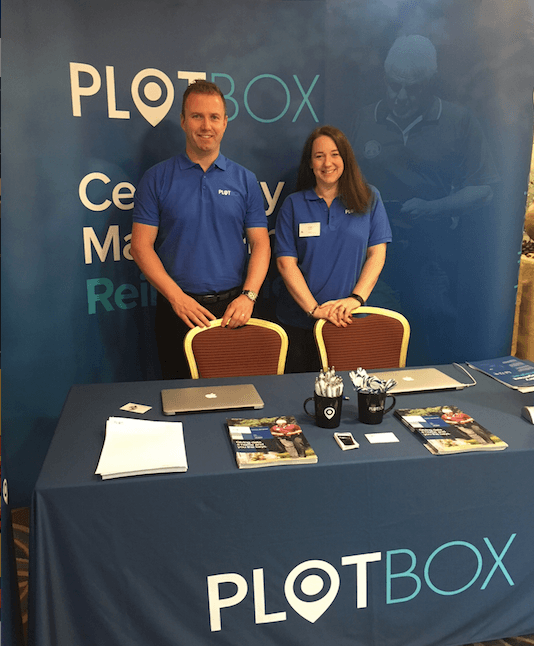 We were delighted to be back once again at the annual ICCM Learning Convention and Exhibition last week. The fantastic line up of speakers and exhibitors provided members with a breadth of knowledge and experience to engage with and draw from.
This year we were not only exhibiting and demonstrating all things PlotBox, but we had the pleasure of being one of the speakers on day one, but more on this later.
Officially opened by outgoing President Linda Hall, Linda kicked off by delivering her final address to members before handing over the reins to incoming President Sophia Allana at the following AGM.

The theme for this year's conference was 'Developing Organisations, Improving Performance, with an Emphasis on Learning, Information Sharing and Wellbeing'. The speakers really explored and represented this theme, with presentations in a wide variety of subjects, yet all with these elements at the core.

Ken West MBE, took guests on a journey through '25 Years of Natural Burial'. A passion of his, as Ken himself designed and opened the world's first natural burial site on twenty acres of wildflower meadow at Carlisle in 1993. We were very privileged to hear about such a subject from the primary expert!

PlotBox's own Head of Marketing, Neil Sherrin took members through an insightful presentation 'The Upward Trajectory – Improving Performance and Implementation of Technology'. The session considered thought provoking insights into how death care facilities could improve their performance through the implementation of technological solutions in the modern world. Neil referenced real world examples and a range of actionable suggestions from the everyday to full scale transformation.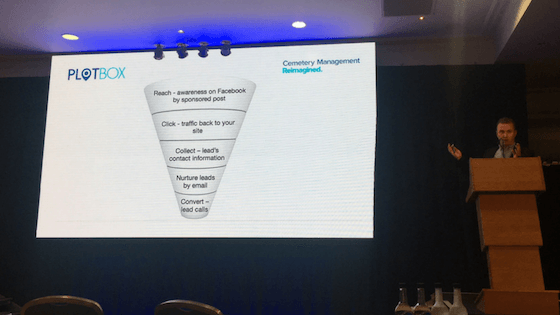 Across the three days members were treated to many interesting presentations, emotional stories and discussions from the speakers. Another popular and important subject the convention considered was 'Burial Space Re-Use – Options and Recent Cases', a session by Mustafa Latif-Aramesh and Nick Evans from Bircham Dyson Bell LLP and Peter Mitchell from Peter Mitchell Associates.

Rounding off day three was the excellent Alan Sheldon from Liverpool City Council with 'Not Everything That Can Be Counted Counts, and Not Everything That Counts Can Be Counted'! Now there's a tongue twister! Alan's presentation looked at how the sheer volume of data we receive can often cloud our vision when it comes to statistical analysis, business improvement and development where he looked at some the various forms of data we receive and offered a balanced perspective.

Amongst the many positive things about events like this is the opportunity to meet up face to face with people we have been 'talking' to through email, social media and by phone. Reconnecting with friends and customers, meeting potential clients, flying the flag for best practice in cemetery management and of course the now legendary ICCM quiz are some of the many reasons we love going to the ICCM Learning Convention and Exhibition.

Congratulations to Julie and Blue for another successful event!

Roll on 2019!