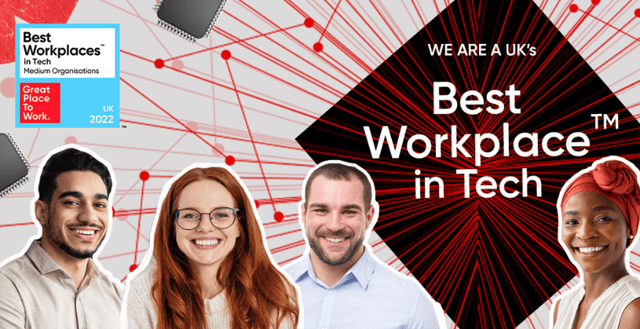 We are incredibly proud to be ranked in the top ten UK's Best Workplaces™ in Tech medium organisations list, launched this morning by Great Place to Work® UK - and confirming that PlotBox is an organisation that recognises the importance of innovation and career growth for employees in the technology industry.
We're delighted to say that this most recent recognition follows our ranking as one of the 2022 UK's Best Workplaces™ For Women, as well as one of the UK's Best Workplaces™ for Wellbeing Medium Organisations - a run that has followed our Great Place to Work® Certification, awarded for the second time in December 2021.
Stephen Hardy, PlotBox CTO, said,
"We're thrilled to have been named a 2022 UK's Best Workplaces™ in Tech. At PlotBox, we're passionate about tech and innovation, and for over a decade, our focus has been on how we can use both to help our deathcare partners serve in the best way possible.
We can only do this through the dedication of our amazing team who continue to push the boundaries of what's possible. I'd like to thank them for helping us to achieve that every single day. This accolade belongs to them!"
As Benedict Gautrey, Managing Director of Great Place to Work® UK, explains:
"Now in its fifth year, our 2022 list showcases the largest collection of Best Workplaces™ in Tech that the UK has ever recognised. These results are based on what employees working in the technology industry have anonymously reported to us about their workplace experience.
In a fast and ever-evolving industry, these organisations are at the forefront of ensuring employees have the right environment to thrive, they are focused on providing positive work experiences, they value diversity, differences and better ways of doing things and, importantly, are investing in effective leadership to ensure continuous growth."
Jane Askin, PlotBox Head of Culture and Talent, said,
"We are incredibly proud to have placed in the top ten on this highly respected list for the second year in a row. Beginning life as a forward-thinking deathtech startup, we've created a work culture that reflects that mentality and we strive, through our values of tenacity, teamwork and trust, to build on and develop that culture as we grow.
In order to grow our team and attract the best talent, we have provided an environment which puts our people first - nurturing their skills, and empowering them to take the lead in driving their own career. We're delighted that the Trust Index© survey results have shown that we are on the right track, and we'll continue to listen to our teams on the best way to achieve that."
About Great Place to Work®
Great Place to Work® is the global authority on workplace culture, helping organisations to create exceptional, high-performing workplaces where employees feel trusted and valued. The UK's Best Workplaces™ for Tech list enables these outstanding organisations to celebrate their achievements, build their employer brand, and inspire others to take action. For more information, visit www.greatplacetowork.co.uk.
---
Would you like to part of our amazing, fast-growing team? Click below to discover the latest jobs with PlotBox!