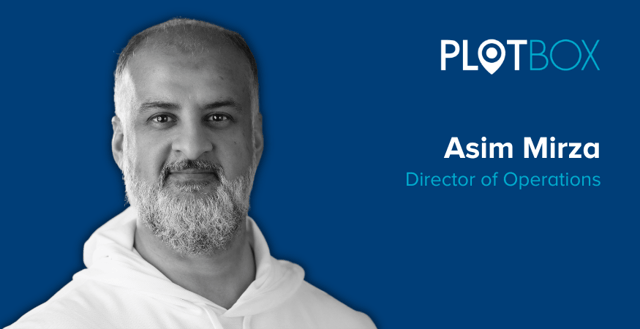 We are delighted to announce the appointment of Asim Mirza as the new PlotBox Director of Operations.
Asim brings 20 years of operational experience in building strong operational teams that embrace the best of technology, process and people, with a focus on the customer experience and digital transformation.
As Director of Operations, Asim will oversee all PlotBox operational functions, from project management to mapping, data migration and training, as well as front-line customer support and customer success - leading the way and setting the strategy for our high performing delivery teams.
Asim said,
"I am really pleased to be appointed as the Director of Operations for PlotBox and ensuring that all of our customers have a world-class onboarding relationship and beyond.
It was important for me to join a growing technology company with a highly innovative product and platform whilst being part of an industry which makes a real impact at the human level. I feel that this is so applicable in the deathcare space.
It was also important for me to join an industry where I use my experience to make a difference. Successful digital transformation is where the combination of the human element and the technology really works. This is what we expect for ourselves and this is what we wish to deliver for our customers."
PlotBox CEO, Sean McAllister said,
"I am delighted to welcome Asim as part of the PlotBox Senior Leadership team. We pride ourselves on delivering world-class solutions to our clients, and rely on our operational teams to support our global partners in the best way possible. Asim's keen insights, strong leadership and wealth of experience will help us to keep the customer at the heart of everything we do as we scale our operations and move into our next phase of growth."
---
Watch how PlotBox has helped the Archdiocese of San Francisco to better serve their families as they move the cemetery forward: