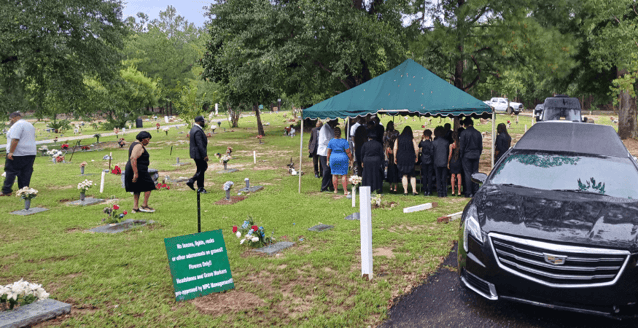 Founded in 1975 by the late Taylor Hodge Sr. and Phoebe K. Hodge, Whispering Pines, is a family-owned at-need, perpetual care cemetery located in Eight Mile, Alabama.
Spanning over 62 acres, the cemetery is now managed and operated by the second generation of the Hodge family, alongside a small, dedicated team of long term and newer employees.
With the cemetery having undergone a recent expansion, it was time for a change, as General Manager Ryan Hodge explains,
"Like many cemeteries, our methods of record keeping were becoming outdated and unsustainable. Coming from a technology background, I could see the potential in updating our paper-based systems to a cloud-based digital solution - one that would help to protect our legacy, help us to plan for the future, and ultimately help us to serve our families in the best way possible."
Following the completion of a day-forward transformation project in early 2022, the team now manage all of their operations from PlotBox's single, integrated cemetery management software solution. Ryan continues,
"It was important for us to have everything we needed in one place. Being able to keep our diaries, as well as manage all of our records, plots, and deeds from within PlotBox, has helped to improve our processes and has provided us with even greater confidence in our systems and our information.
Having had the cemetery mapped using PlotBox's drone technology, the PlotBox iPad app will provide the visibility for us to go onsite, plot our graves and match to the data we hold."
This way of using PlotBox to help look forward was also a key consideration for Business Manager Cora Eatmon, as she explains,
"A key benefit of using a cloud-based system such as PlotBox is its scalability. As we bring on new members to the team and look to offer pre-need planning to families in the near future, the flexibility allows us to scale up or down as our needs change.
As well as that, we have recently opted to add on the CRM tool, allowing us to digitally keep track of and analyze our customer interactions, which from a business perspective is proving incredibly useful in terms of meaningful reporting and in building the relationships we have with our families."
PlotBox CEO Sean McAllister said,
"We're delighted to be able to help Whispering Pines on their journey of legacy modernization. As Ryan and Cora have said, PlotBox isn't just about protecting the history that cemeteries hold, it's about providing them with the best way to move forward."