Cremation
How PlotBox Crematory Management Software is Helping Rushcliffe Oaks Manage Cremations
Kindly choose your preferred language by clicking on the globe icon and selecting your desired option from the available choices.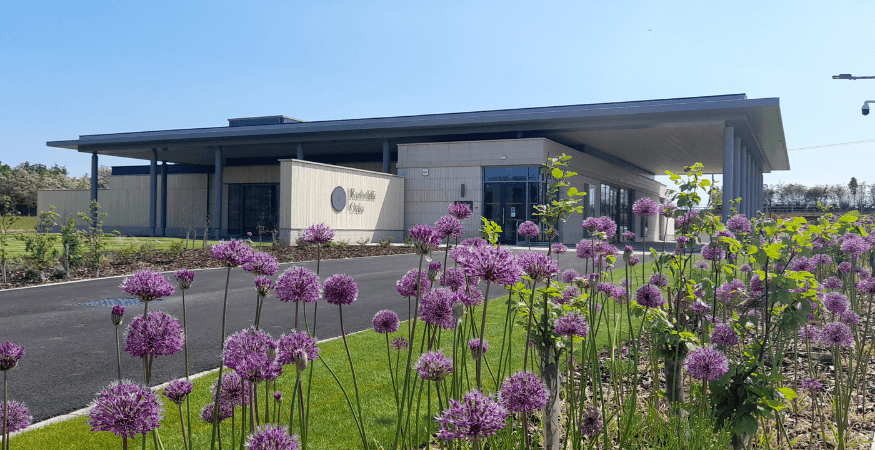 Operated by the Local Authority of Rushcliffe Borough Council in Nottinghamshire, Rushcliffe Oaks opened its new crematory in April 2023. As an environmentally conscious facility, it uses renewable energy sources, and is one of the first in the country to invest in innovative, all-electric technologies.
A focus on sustainability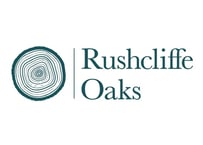 Situated within 9 acres of countryside, the site features a mix of trees, formal lawns and shrub borders, with large expanses of wildflower, and grass meadows. As such, the team is committed to managing the space in a sustainable manner, and supporting the council's vision of making a positive difference to the environment.

This focus on sustainability was also an important factor in the design of the facility, which features a green sedum 'living roof', providing additional habitat for wildlife, as well as being served by its own solar panels. The crematory hall is one of the first in England to to use all-electric technologies, reducing CO2 emissions by up to 85% vs traditional gas equivalents.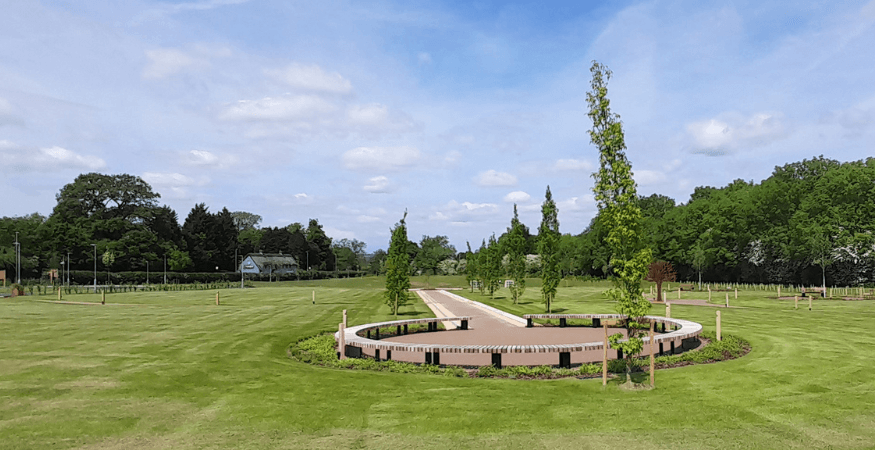 We spoke with Crematorium Manager Rhonda Churchill on the project's implementation process and why they chose PlotBox as their crematory management software solution provider.

Identifying the cremation need

"With other crematoriums locally offering a very traditional style, from the outset we were looking at a more contemporary style to provide choice. A feasibility study was carried out to determine need within the area.", as Rhonda explains,

"There was a study done in terms of drive time…and it was apparent that there was a need for a crematorium in this location. We pull from quite a distance, so we've already had services from funeral directors as far away as over an hour away."

With planning permission acquired by a company from whom Rushcliffe Borough Council purchased the site, the two worked together for a time on the project that took a total of between two and three years to complete. Rhonda continues,

"From the planning stages we looked at different types of cremations and what would be best for the environment. Resomation had been looked into, but it wasn't quite ready, so electric was chosen. On the back of using the electric cremator to cremate, we then also use the residual heat to heat the building and the hot water via a secondary heat exchanger.

We've also got PV panels installed to take the base load of the building in terms of energy supply. We've got air source heat pumps as backup should the cremator not be in use, and another big focus for the site is the net biodiversity gain across the site, with a lot of the landscaping and plants designed to attract different types of insects and butterflies, birds etc."
Finding the right crematory software partner

Initially acting as Project Manager, Rhonda has worked on the project for the past 18 months, implementing all of the operational functions, recruiting the team and overseeing set up ready for the opening. That included the acquisition of a fit-for-purpose crematory software solution that could meet the facility's operational needs in the best way possible.

Having looked at a number of options, PlotBox stood out for a number of reasons,

"There were two main selling points of PlotBox", Rhonda explains,
"One, was that it was cloud-based. The other was that, compared to some of the other systems, while you do need training, you can generally find things out quite quickly. That, and the fact that there was a chat function where you can get things answered really quickly - that was a big tick."

Cremation process alignment

As a new crematory without established systems and processes, and with staff having varied industry experience, the teams worked together to understand what was required,

"The trickiest part was not knowing what we needed at the start of the process. Collectively, our expertise comes from a number of different places, so for me, the challenge in the implementation was not really knowing what we wanted during the phase of process alignment and configuration.

There were certain things that we definitely knew we didn't need because we don't have a cemetery, and there were some basic things we knew in terms of the work we'd done with our fees and charges, so we knew what we were going to be offering. There were certain things that we weren't sure on, but the guys were great in terms of helping to establish what we needed."

Day one confidence

"The thing with PlotBox, and this is why I've never really worried too much, is that straight from booking the very first cremation on the phone, it's a simple system to use.
There are some elements that you do need to be taught, but now, if I need a report on something, I can generally find how to do it. And that goes back to what was part of the attraction to the system."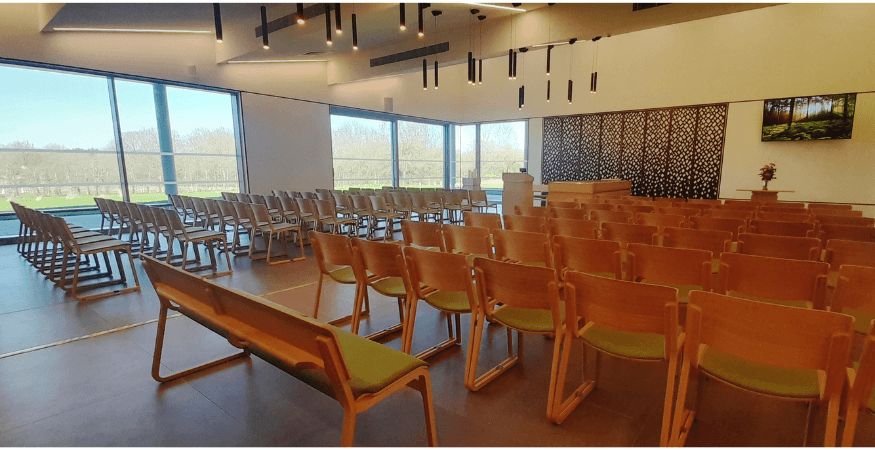 Crematory management

PlotBox's crematory management software is helping the team to effectively maintain cremation booking schedules, store and manage all of the necessary documentation, and print the required cremation reports.

"Memorials are the next piece of the puzzle in terms of how we use it", says Rhonda,

With a lot of my time being taken up with the build project, I wasn't getting time to go into PlotBox to have 'a play', so to speak. Two of the team have been good at working out how to set up plots and so forth, having done quite a bit of work early on with that, which will really help now that we're starting to sell the memorialization."

Funeral Director Portal

Another key function provided by PlotBox is the Funeral Director Portal, which provides funeral directors with 24/7 online access to view and request booking slots from their crematory calendar.

"We do have quite a few funeral directors signed up", says Rhonda. "Some of them are really great, they've just gone on it and got it straight away."

In terms of onboarding, Rushcliffe ensured that they provided their funeral director partners with all of the necessary information, while acknowledging that there may be an adjustment for some,

"We prepared a pack for them with screenshots and instructions on how to get an account. And we delivered those in person to all of the funeral directors so we could sit and go through it with them if we needed to.

It's not something I want to force anyone to do - it's there if they need it out of hours, but if they prefer to do it over the phone, I'm okay with that too, providing we get all the paperwork digitally."

The future looks bright

In terms of how the team has taken to their new crematorium software system, the signs were good from the beginning, as Rhonda says,

"After we had our initial demo from PlotBox, one of my colleagues, who had experience with one of the other systems said, "You're going to want this one."

It's just a more attractive system to view - it's easier to find your way around, and most things we can generally find within a few minutes.

I think we're all on the same page really, and we all find little bits that make things easier as we move through it.

And as I said, the chat function has been brilliant. The whole PlotBox team has been really helpful, really friendly - we know that we can ring or email and get things sorted, and in the beginning, they gave me a massive hand in terms of the procurement side of things.

We have recommended PlotBox to a couple of other local crematories who are in the stage of looking at how they can upgrade or make things easier."
---
Discover how PlotBox Crematory Software can help you to manage your teams, improve communication, streamline your processes, and ensure compliance: