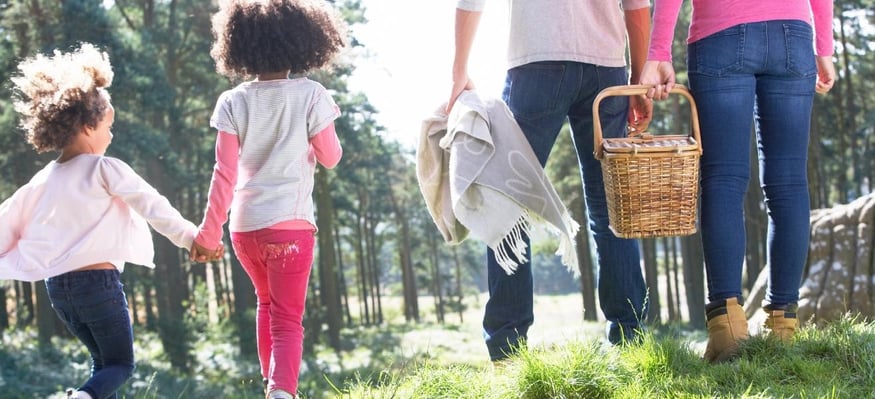 In the early nineteenth century, before the rise of widespread provision and use of the 'public park' as we know it today, cemetery grounds were popular and frequented public amenity spaces for social gatherings, leisure activities and relaxation.
The Rural Cemetery Movement (RCM)
In mid-nineteenth century America, multi-use 'open' cemeteries began appearing more and more across the country as a spacious, natural place to escape and relax for those living in the cities.
How did it start?
The movement began in 1831 when the Massachusetts Horticultural Society purchased 72 acres of mature woodland to create an experimental garden and 'rural cemetery', which then became Mount Auburn Cemetery, Boston, MA. To date there are over 100,000 people interred at Mount Auburn in the cemetery's beautiful surroundings. It gained national and international attention and led to other cities also adopting the same ideas.
Creating a place…
These new spaces were designed and built on acres of beautiful landscaped grounds with winding roads and wide open spaces, often looking out over picturesque vistas, creating stunning natural parks. They were designed as a contrast to an increasingly urban setting and based on English landscape gardening, romantic visions and so users could immerse themselves in nature and have a place of sanctuary, reflection and solitude. They also drew huge crowds for leisure pursuits such as picnics, gatherings and carriage racing and for those attracted to the beautiful sculptures and horticultural art .
The end...
The cultural phenomenon of the RCM did not last long however, as towards the late 1800s after the Civil War, cemeteries once again became associated with grief and no longer held the romanticized view of death they did once did. Public access and activity moved away from them and they started to close their doors. The cemeteries, in their success had in turn, inspired large (burial free) city parks and there began a shift in public utilization towards these parks. This then led to a more serious, respectful thought process in relation to the cemeteries, which were now seen as sacred and revered memorials.
And now...?
In the 21st century, we're now seeing a resurgence of use, as more and more cemeteries, crematoria and funeral homes across the US are opening up again and inviting the 'living' in. Many have successfully implemented full events and activity programmes and are seeing increasing interest in public visits. Being a culture that values experiences and new ways to do the things we love, we're seeing cemeteries operate open air cinema with movies that have synergy with the environment. Yoga, running, pilates and much more are possible and already happening in cemeteries across the US.
At 'Hollywood Forever', Los Angeles, CA, they've arranged a successful ongoing roster of concerts, movie nights, cultural activities, fundraisers and food/wine events. Being the first choice of resting place for all kinds of celebrities, it's kind of fitting then that this cemetery is host to many events within the industry of its interred.
Another example of this can be seen at Cedar Hill Cemetery and Foundation Hartford, CT, a 270 acre facility, set in beautiful parkland, woodland and lakes, where its events cover a diverse range of topics from history to the natural world.
Likewise, Brompton Cemetery* a member of the Royal Parks in London recognizes how the utilization of their natural assets and facilities can bring financial rewards. In their Business Plan (2015), they describe their vision:
"Giving Brompton Cemetery a Sustainable Future – reviving the cemetery with a robust business model to enhance visitor experience, engagement, education and wellbeing"
The key points here are 'visitor experience' and engagement'. It speaks of a welcoming environment and describes their support in encouraging people in.
Two of their immediate objectives are also 'in tune' with this line of thought;
Plan to enhance the cemetery as a destination where people can visit, dwell and learn about its history and wildlife - leaving with a positive emotion to help conserve the cemetery
Enhance the business activities to secure income for the cemetery to sustain it in the future (enhanced funerary service, cafe, filming and venue hire)
There's a huge opportunity for further revenue through projects such as feature films, television dramas, commercials and large scale photography shoots. Alongside all this activity comes the need for further services, such as providing refreshments, which Brompton Cemetery also recognises and details further in its business plan. They also hold general history tours every Sunday, movie screenings (Frankenstein is coming up in September!) and nature events for the whole family.
What could you do?
Have you thought about expanding the way in which your cemetery is active within the community? How could you encourage the public to join in events and activities in your grounds?
Many cemeteries that are already carrying out some of the activities we've discussed are realizing a raised profile for their business and benefitting from the additional income.
Think differently!
How could you make your facility attractive as an 'alternative' and 'interesting' venue? How about using the tools you already have at your disposal, such as your website and social media to create awareness and interest in your events and promote your cemetery grounds as a 'location'. You then have the opportunity to build and personalize your website to receive bookings and take revenue directly for any events/activities you decide to hold. With the addition of promotion via your social media channels you will be able to reach potential visitors and bring in those additional sales.
So...why not think about what you can do at your cemetery - Download our e-book from the link below for ideas on how to manage them and bring them to life!!