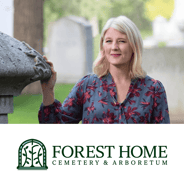 We recently had the pleasure of speaking with Sara Tomilin, Assistant Executive Director of Forest Home Cemetery and Arboretum, who shared ideas, insights and inspiration on how they're using their space and rich history to establish a stronger connection with the community they serve.
A Gathering Place
A historic garden cemetery founded in 1850, and one of the oldest and largest in Milwaukee, Forest Home possesses a great deal of history from which to draw upon. Created in the garden rural style, with many trees and winding paths, they have captured and maintained the topography of the area.
Currently an independent nonprofit, they're able to fund a number of preservation projects through donations received from events, and by getting people involved in the cemetery.
An urban greenspace
Close to 200 acres, Forest Home is larger than any city park in Milwaukee. Originally built on the outskirts of town, it's now surrounded by a densely populated urban area that's home to a young, diverse population of around 65% Latino and 15% White. Being surrounded by concrete, having 200 acres of greenery nearby is an asset to those who live in the surrounding area.
The pandemic pivot
As with all cemeteries, the pandemic limited opportunities for activities. However, while tours were on hold, Forest Home did reach out to suggest that people come to picnic or to walk through the cemetery. With public parks overrun, people soon realized that they could come to enjoy the open, green spaces that Forest Home provides.
The pandemic also provided the opportunity for Forest Home to inventory and manage their trees. Initially believing they had 1200 trees, they learned that they had in fact three times that amount! The exercise, carried out over a two-month period through drifts of snow, allowed each tree to be marked and added to a database on their website.
Due to their size, they give off around $460,000 worth of eco benefits, while their huge, inviting canopy provides a pleasant space for people to enjoy the benefits of nature.
Accreditation
Applying to arbnet, an international group that provides arboretum accreditation, Forest Home were able to become a level two arboreum, meaning that they are open to the public every day.
That also means that they offer a number of educational programs and has also led to funding opportunities such as memorial tree planting. Now, people can provide a donation to memorialize a loved one by planting a tree on the property with a marker - also allowing the cemetery to keep their existing tree collection going. Other activities include tree walks and tree planting seminars which provide educational components.
Partnerships
Forest Home has found that partnering with other groups is a good way to start events, without having to invest a lot, as well as having partners bring the audience to them.
The cemetery provides an ideal location for birding - with two different birding groups - the Bipoc Birding Club of Wisconsin and the Wisconsin Metro Audubon Society using the space to teach groups of around 50 people. This provides additional opportunities to talk to those who are interested in the environment about green burial.
They have also partnered with Shakespeare in the Park, who during the summer, gave a performance to an entirely new audience of 200 people, not necessarily familiar with the cemetery as a space to come into and enjoy.
Historic preservation
There are a number of ways in which Forest Home taps into its 172 years of history.
With Memorial Day typically starting off the event schedule, throughout the summer, they have provided tours at weekends, drawing in thousands of people which allow them to generate additional sources of income. These tours, with costumed actors or docents, play on local themes such as Milwaukee's beer history - including the recent, 'Smokers, Drinkers and Troublemakers'!
The cemetery also provides free events that serve as fundraisers, drawing upwards of 500 people to enjoy the grounds while enjoying some refreshments.
Memorials, markers and monuments
In July 2021, the cemetery hosted a very well attended workshop that taught monument cleaning skills. That has resulted in a project where those same people are coming back to work on cemetery monuments as a group. With 118,000 people buried at Forest Home - there is plenty to do!
Another project is to find grave markers where there are currently none. Their Civil War group has found around 300 unmarked or unreadable graves of Civil War veterans and placed markers for them.
At one time, a gentleman came to the cemetery looking for a man named George Marshall Clark, who was Milwaukee's only known lynching victim in 1861. He was lynched and buried in the cemetery with no marker.
The cemetery team carried out a fundraising campaign with a dedication event, attended by a number of local luminaries, and attracted a lot of media attention. With historical cemeteries, there can be a variety of people buried there - all with unique stories - providing a great way to show the history of the site.
Community Events
The cemetery is now also able to stage larger events that can generate revenue. Understanding the importance and significance of Día de Los Muertos, they wanted to provide an event that would show they were part of the community. The most important part was to invite seven members of the local neighborhood to be part of their event committee - taking direction and with respect to their traditions. Now in its second year, the event is growing in popularity and gaining sponsorships.
A new initiative for the cemetery in response to requests, Forest Home is now also planning to provide an immersive 'after dark' experience. Wanting to do something spectacular, they have partnered with a local theater company, with actors guiding people through the cemetery as a historical narrative unfolds.
Connections
People often come to cemeteries looking to find and connect with relatives who have passed. Historic Milwaukee runs an initiative called 'Doors Open' where all historic buildings and spaces that are not normally open to people are open for two days. One such event brought in around 800 people to Forest Home on one day, with many coming back to look up their relatives and find their resting places - another example of how cemeteries can help create connections for people.
The visitor opportunity
Tours provide Forest Home with the ability to trace visitors to their site and to give them an overview of what they're about. With room for a hundred years more, they are very much an active cemetery - something which people often don't realize. Recently, one person on a tour learned about green burials, and bought one the very next day.
People
Forest Home has around 14 docents who act as tour guides and around 20 people who are interested in grave cleaning ; as well as around 15 or 20 people interested in doing one off events.
Growing that group is very much about connecting them more with the cemetery - the more they connect, the more people want to get involved, and the more they talk about the cemetery.
Viewing that cycle for every cemetery - as people attend events and hear more about what a cemetery can provide, they want to get more involved, growing the volunteer base and encouraging families to think more about what they could be doing to help.
---
For more, you can view the webinar in full here: