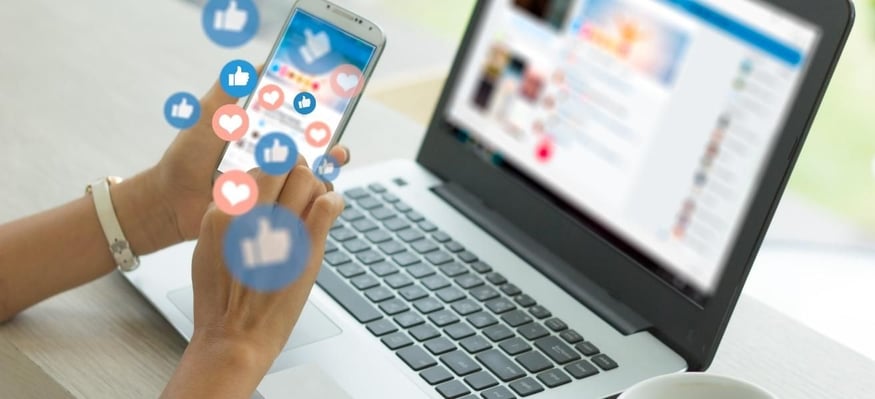 Using social media as a platform for marketing and brand management isn't a new idea, however, the momentum in using these channels doesn't seem to be slowing. In fact, more and more organizations are using Facebook, and a whole host of other social networking sites to attempt to project their brand into the public eye. This guide will give you some help with tools and steps to take to give you the know-how and confidence to do social media marketing in-house!
In this article you'll learn:
What is social media marketing?

Why's it important?

How to do it yourself
1. What is social media marketing?
Social media marketing is the use of social media platforms to connect with your audience to build your brand, increase sales, and drive website traffic.
2. Why is social media marketing important?
Here are some impressive statistics on social media usage that may surprise you...
73% of all US adults use YouTube

YouTube is the second most popular search engine after Google

74% of all Facebook users visit the site on a daily basis
Other reasons social media marketing's important:
The death care industry is a relationship business - people connect with a person, not a company and not a logo. Use social platforms to showcase the human side of your business and to build relationships with your local community!
Recent algorithm changes to Facebook mean that your unique content will be made more visible - obituaries are unique content that you can share and they are helpful to your community.
Social marketing is great for brand awareness and is best for promoting pre-need sales as opposed to at-need
Social media marketing can deliver maximum effect if used correctly
3. Using Social Media in the Death Care Profession
Create a strategy
First thing's first, you need a solid strategy. And we don't mean just a social strategy; instead, create your marketing strategy and ensure it covers social media.
Some social channels to consider including in your strategy include a blog, LinkedIn, Facebook, Twitter, YouTube, Instagram, Pinterest and podcasting. However, don't just go ahead with all the social media channels you can think of. It's important to research your target audience well, and get visible on the social media channels that they're using.
Another thing to consider is if you even need to be on social media: could your marketing resources could be better spent elsewhere? Finally ensure that your social goal aligns with your other marketing strategies: to connect with your local community, and to add value for them by answering their questions and pain points.
Paid social media advertising
Social media, whether paid or unpaid, is often about soft leads. Paid social is an effective tool for turning those sales prospects into hot leads by getting them to your website with clever copy. A compelling call-to-action can generate measurable ROI. Not driving potential customers or clients to your site is a lost opportunity.
Most social platforms have a model that allows you to pay to place adverts so they'll rank your content higher and get your message in front of the right people. Paid social media advertising isn't for every organization though. You'll know that paid social advertising is the route to go down if you've got a specific target or campaign to run, for example:
If you're building your following from scratch
At the very start, organic growth can be a very slow process. Paid social search can, therefore, be a great way to supercharge your following and the reach of your content fast.
When you're diversifying the demographics of your audience
Facebook ads facilitate extremely specific targeting, such as location (even down to state, city or zip code), demographics, life events, lifestyle, behaviours, and much more! With this possibility, you can build exactly the type of audience you want.
If you have a new product you're offering or a promotion you're running
Paid social will increase the frequency with which your content is seen by your followers, and your audience will be more likely to actually find out about that product or promotion.
Social media marketing checklist
Here's a checklist to get you started on social media marketing yourself:
The first rule of social media is only doing what you're comfortable with!

Choose meaningful and consistent usernames and profile and banner images across all networks

Try to get a good balance for the type of content that you're posting. Business.com recommends the 5:3:2 rule:

5 should be content from other sources that are relevant to your audience, otherwise known as curation.
3 should be content you've created, that's relevant to your audience, or creation.
2 should be personal, fun content that humanizes your brand to your audience, to be referred to as humanization.

Even if you hate social media, learn how to add an obituary to Facebook:

This can be done on your personal or company page and it's super easy to do: simply copy the URL of the page the obituary is posted on, and paste this into the 'status update' section of your social media page. You can add any comments and appropriate pictures to this.
Creating and curating content
Finally, we all know that content is king, and for our followers to interact and engage with us through social media, we need to have some great content for them to consume. Here are some easy tips to get you started on your content:
Create your own content




Review your inbox and website, and use those submissions to create FAQs

Curate other people's content




Share articles that will be helpful to those who might need your services in the future




Information aggregation

Create your information dashboard online, e.g. Netvibes, ighome.com, Google Newsfeed.

Communicate with staff using Slack to share information, articles and pictures. This is a quick way to share information with your social media team and gather ideas from other staff.

Use an RSS feed to categorize your favourite blogs.

Repurposing content:




Different people like to watch, read, listen and look at content. For example, if you've spent time creating a great video, why not strip off the audio for a podcast or webpage? You can transcribe the audio for a blog post and turn it into an infographic or presentation, etc.

Here are some general guidelines on what type of content suits which platform:
Facebook: Videos, community discussions, curated content and reviews
Instagram: High-res photos, quotes, stories
Twitter: News, blog posts and GIFs
LinkedIn: Jobs, company news, and professional content
Pinterest: Infographics and step-by-step photo guides
---
These are some easy tips to get you started on content creation, however, do remember that you'll need a content marketing strategy! This is something you'll need to revisit once you've got your social media up and running, and it can tie in with your larger marketing and social media strategy.
So now you have all the tools you need to go ahead and start promoting your organization on social media, right? Well maybe! Although this article will help start you off, you'll need to do lots of your own research to figure out the best plan for your cemetery. Even if social media marketing isn't top on your list of priorities, we promise that having some kind of social media presence will pay off. Good luck!
PlotBox cemetery management software includes a CRM module to help take your cemetery's sales and marketing efforts to the next level! To find out more, contact us now to speak to one of our PlotBox experts.
Further reading:
Blog post: How can Cemeteries Meet the Digital Expectations of Millennials?