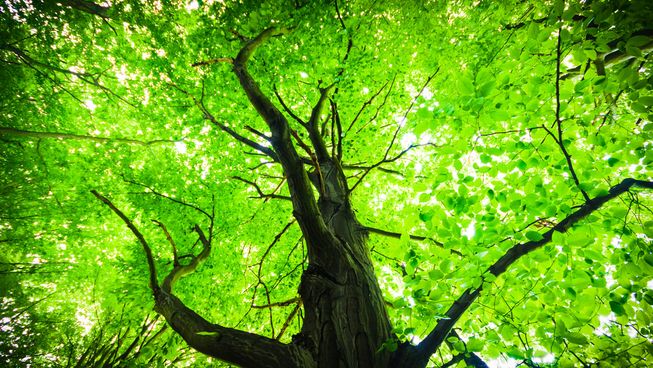 Natural burial or Green burial sites have proliferated across the globe in recent years. The rise is in this trend is reflective of increasing concerns for the environment, according to Lee Webster, the treasurer of the Green Burial Council.
Take China as a prime example.
9.6 million people died in mainland China and almost 5 million corpses were cremated in 2011.
Every cremation carried out creates on average about 160 kg of carbon dioxide (CO2), which is equivalent to 760,934 tons of CO2 that were discharged into the atmosphere in that year.
This number is set to increase as China enters the so-called ageing society and more people will die, and are opting to be cremated.
As a result people are opting for a natural burial and according to Heather Ferguson of Fernwood Cemetery in Mill Valley, California, people are travelling across the country to meet their decision to leave a Green Legacy.
Is the demand being met?
According to a poll in the UK a few years ago, an astonishing two thirds of people said they would prefer a natural burial, which begs the question, is this demand being met?
There are approximately 300 natural burial sites in both North America (see locations below) and 300 in the UK, even though there are 5 times more Americans than Britons.
If this is true, it would suggest that a lot of cemeteries are not offering their customers the choice to go green.
PlotBox caught up with Heather Ferguson of Fernwood Cemetery to discuss this growing trend:
1. Heather, why do you think there has been a rise in Green Burials?
There are a few reasons, mainly people are becoming a lot more progressive when it comes to composting and green burials is composting in a sense.
Land preservation is key and allowing that land to be preserved in its natural state.
Green burial sites are also used for multiple purposes, and not just to bury family and friends that have passed away.
We have families visiting the site to participate in numerous outdoor activities such as running and hiking.
Many customers are extremely satisfied that their final resting place is a happy place and not as somber as a traditional cemetery tends to come across as.
The organic element of this type of burial is also very appealing, it does not involve a cement box as such and everything used here is bio-degradable, including the urns.
Here at Fernwood Cemetery there is no plastic, metal or chemicals; everything has to break down.
This is also the most cost efficient method and can save families thousands of dollars on metal caskets.
We have also seen an increase of people contacting us from across the country seeking to purchase a plot.
2. What are the challenges in meeting this growing demand?
The biggest challenge was mapping.
The previous method we used prior to implementing the PlotBox's digital mapping solution involved A LOT of manual work and a lot of old paper maps.
I think the system we have in place right now is proving to be successful and is making our lives easier.
We can sell a plot and be certain that we are selling the right space and fairly quickly.
As opposed to the old system, where a potential customer was on site and would like a space, we would then have to go back to the office, get the GPS, come back up into the cemetery to try and get a reading on it and it left a lot of room for mistakes.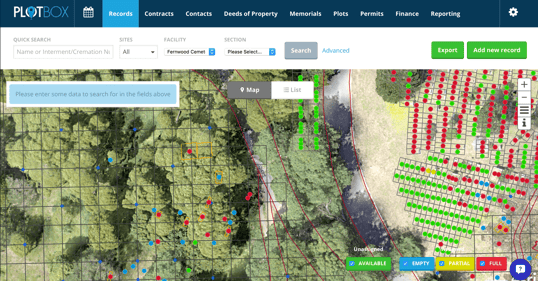 Fernwood Cemetery, Green Burial Site
3. What was it about going digital on the mapping has helped you the most?
The gridding system particularly, we have a lot more confidence in knowing that we are putting someone in the pod they are supposed to be in.
It has helped us to see what spaces are still available and we are a lot more organized and confident in what we are allocating.
This is an unusual site and due to the hills it is very difficult to ensure accuracy but I have confidence now that the survey tool and using the iPad App we are really getting accurate locations.
It is helpful also in terms of selling, knowing that we are selling the right space.
For example, we had a customer come in this morning looking to purchase 10-15 burial plots and it was easy to open up the PlotBox system to see what we have available and along with using the iPad to locate the plots on site.
4. Tell me more about selling pre-need plots in a natural burial site?
Sales have gone up.
We have been able to sell more spaces, with more accuracy and faster.
Pre-need sales have increased because we are now using modern technology for our mapping.
We are more confident when talking to customers and we are filling them with confidence when we show them on the iPad App what is available.
They know exactly what they are paying for. We print the map and pinpoint exactly where their plot is located and what is surrounding it.
It was very easy to lose sales when we would have had to spend more time going back and forth with the old system.
Also if it was raining and the family didn't want to go back out to the cemetery they could leave and sometimes may not come back.
PlotBox has eliminated that problem. The visual aspect of PlotBox is great! We have even been able to sell contracts remotely.
I'd say it takes half the time to complete tasks, in comparison to the old system.
We have the iPad and if a customer likes the space we can say right there and then if we can sell this space.
There were many different steps in the process before that was time very consuming.
5. So if there's green burial, what about the options for green cremation?
There's a new kid on the block called EcoLegacy, a company who have created an innovative and environmentally friendly process called ecoLation.
Instead of destruction by flame, ecoLation™ uses a freezing process coupled with a molecular based method that mimics the earth's natural processes of thousands of years and condenses them into a short period with no pollution side effects.
This natural acceleration process, returns the remains in a post-cremation like form, but without the emissions of traditional fire cremation.
All the same options are available (burial, urn, scattering etc.) but there is now also the ability to create a living memorial through, for example, planting a tree.
The ecoLation™ process neutralizes bacteria, viruses, pathogens, prions and other nasties. As one is ecoLated energy is released from the remains.
This energy is used to self-fuel the process making the system even more environmentally friendly and partly self-generating.
Need advice on mapping for a 'Green Burial' site?