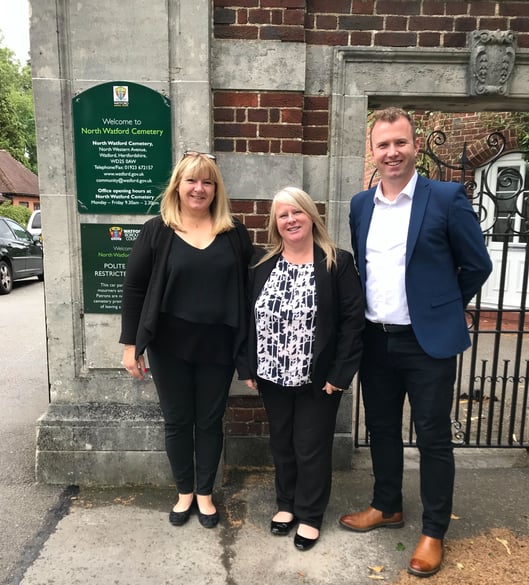 We recently sat down with Tracey Jolliffe AICCM (Dip), Cemetery Manager of North Watford Cemetery, to explore the process of Watford's migration to a cloud-based cemetery management software.
The full webinar recording can be found here, but for now, here's a few highlights from a recent discussion with them!
The team at North Watford Cemetery are undergoing a huge modernisation program that aims to transform the operation for the 21st Century and ultimately raise service levels for families.
That includes a large extension to the 1930's office that will boast a new reception area, meeting facilities, a mourner's shelter, modern staff uniforms, WC facilities and of course, a cloud computing solution that will revolutionise the cemetery management workflows which is key to the council's Digital Enablement Program.
Led by Cemetery Manager Tracey Jolliffe, the Watford team worked closely with the council's IT team on the delivery of the new solution due to go live this Autumn.
Tracey comments:
"Our investment will pay back tenfold, we believe that to operate effectively in the 21st century, cemeteries need a cloud system that links data to an accurate map.

I did my research, but nothing else compared.

Having that level of information at your fingertips is priceless.

PlotBox will allow us for the first time to answer freedom of information requests and it brings all our stakeholders together, Funeral Directors, Masons and the Public."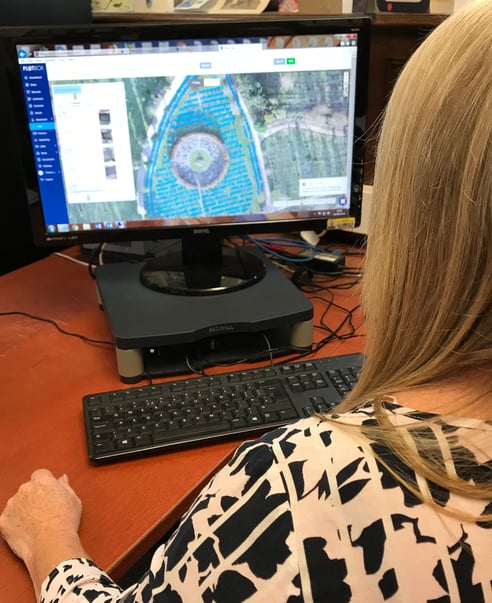 Speaking about her thoughts at the start of the project, Tracey recalls the need to avoid migrating inaccurate records into PlotBox:
"We knew we had many records, especially in our historic Vicarage Road site, that were inaccurate.

Part of what we secured with PlotBox was a data matching service whereby they send a team on-site and audit our inventory, flagging records where it looked like we had a discrepancy.

Using their iPad App and the new digital map they instantly verified or flagged what the headstone was indicating in the field...it'll save us an enormous amount of time moving records, deeds etc. in PlotBox compared to our previous process."
Since the migration and verification of data, the Watford team have most recently been data testing, training and exploring the full potential of the product.
"Communication has been excellent, every step of the way we've had good updates, and work is always done on time.

I've never been out of the loop for anything and whenever I email I get a quick response.

I can't stress how beneficial it is for us to have our data linked to our map, we love looking at the pins over the graves!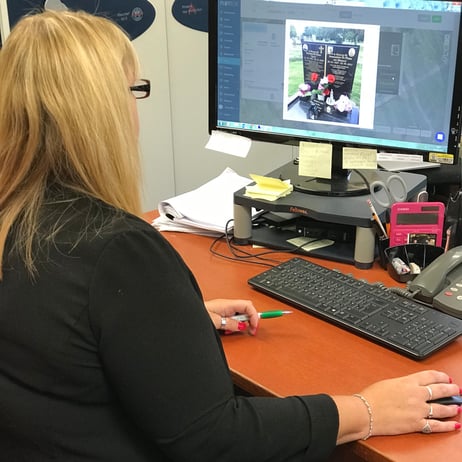 We used to have to trek 7 miles to Vicarage Road to look at a grave, but now we can do it from the office.

PlotBox should come with a health warning given you end up doing far less work and exercise!"
The modernisation hasn't just helped the day to day operation either; it's helping Watford Council by meeting criteria towards Gold Standard from the ICCM's charter assessment process.
In terms of advice to anyone considering similar transformations, Tracey says:
"It's definitely a process; you can't do everything at once and nor should you, but the earlier you start the better.

In terms of implementing a new solution, your supplier is critical of course, but there's also so much responsibility on us as the customer too, so make sure you've someone who has the capacity to act as Project Manager who can coordinate the project from your side.

That's a must!"
***
You can view the full webinar recording here.
[Webinar] Turning Your Cemetery Services Digital: A Case Study of Watford Bereavement Services