cemetery software
2022 ICCFA Convention & Exposition: What A Week!
The PlotBox team had an amazing time at this year's International Cemetery, Cremation & Funeral Association Convention & Expo, Las Vegas!
Kindly choose your preferred language by clicking on the globe icon and selecting your desired option from the available choices.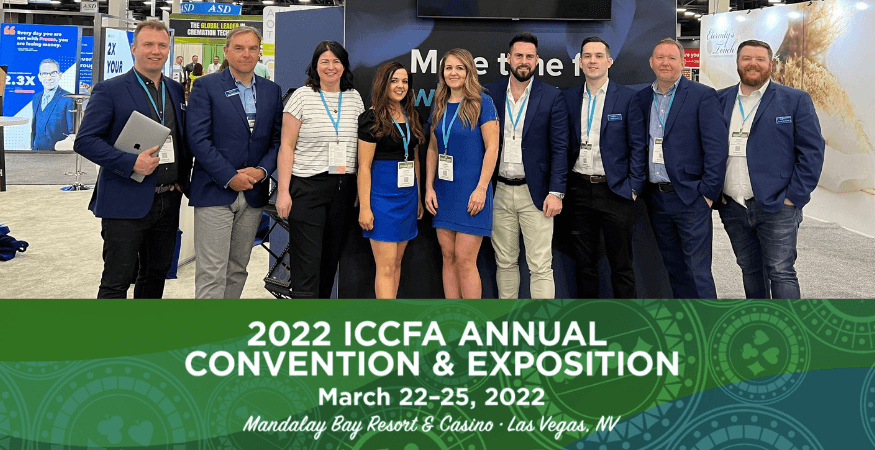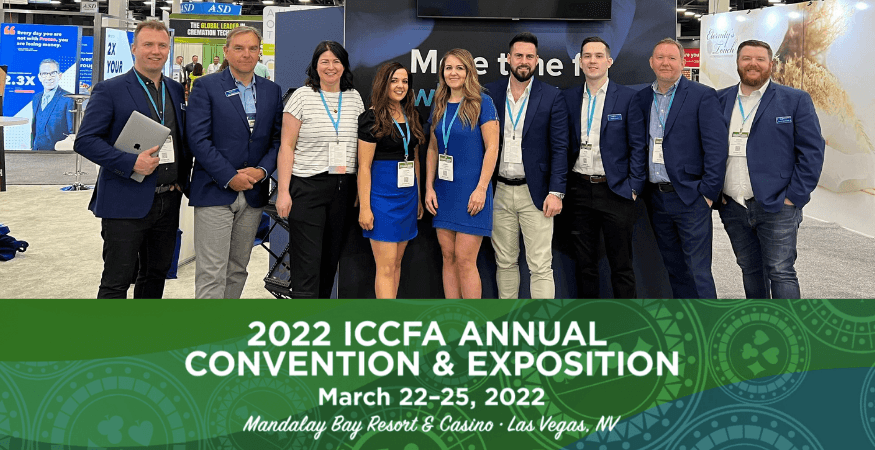 The ICCFA Convention and Expo, Las Vegas, Mar 22-25 proved again why it's hailed as one the highlights of the deathcare industry calendar.
From the grand opening reception, to the fabulous closing gala ball, the PlotBox team joined thousands of deathcare professionals and exhibitors from across the globe in four days of learning, networking and fun!
We gained many valuable market insights from the dozens of educational sessions and keynote speeches, including consumer trends, emerging challenges and marketing opportunities, and relished the chance to connect with so many old friends and new.
We arrived home exhausted…but excited, inspired and full of ideas - and we can't wait to put everything we learned into practice.
We want to thank our amazing team who helped to make the trip such a success, and each and every person who stopped by our booth for a chat with one of the team, sampled some Irish hospitality, and sent good wishes from afar!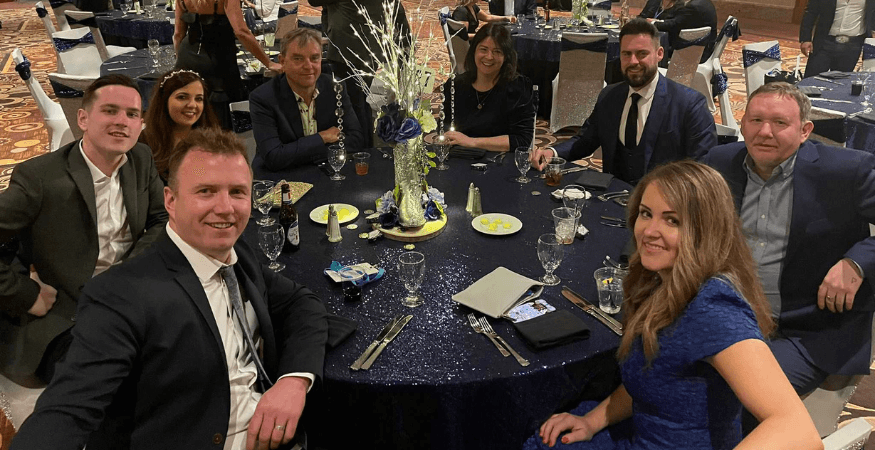 Here are just a few of the many takeaways from the PlotBox team:
Sean McAllister, CEO
"It was fantastic to make it back to the ICCFA in person, the buzz was amazing and we were delighted to meet up with old and new friends. The footfall was constant at the booth and attendees were really engaged. Looking forward to another successful 22' off the back of this year's convention."
Leona McAllister, CCO
"It was so good to be back at ICCFA! There was such a positive energy among vendors and attendees to be at an in-person event again, and it was great to see old friends and make new ones. This year's event felt different to past events in terms of attitudes towards technology. Whether it's natural progression or there's an acceleration due to COVID, we received the message loud and clear, the industry is ready for change."
Neil Sherrin, VP Business Development, North America
"The 2022 ICCFA Convention was by far and away our most successful ever, it's increasingly evident that large portions of the profession have shifted from a state of awareness re. single solution death tech to a state of strong desire and need. We're looking forward to helping enable those operators to grow quicker, reduce cost and minimise risk."
David Mehrwein, Senior Sales Consultant
"The energy of the show was quite evident at the first ICCFA in-person since 2019 in Charlotte. It was amazing to be back on the show floor and to speak face-to-face with customers, industry peers, colleagues and those looking to change the way their cemetery operates for the better."
Kirsten Ono, Marketing Manager
"It was an amazing experience managing and attending my first ICCFA Convention. Seeing months of preparation from the team come together was incredibly rewarding. Feeling the buzz on the booth, having the team together and hearing from customers, peers and future partners in person made it a fantastic event."
Laura O'Neill, Marketing Team Leader
"It was great to be back at ICCFA this year with the team! We had lots of engagement at our booth and we were delighted to have the opportunity to connect in person with customers and peers at the event."
Joe Witherspoon, Solutions Consultant
"It was fantastic being in one physical place in Las Vegas with my teammates at PlotBox from around the globe for the first time since I started in November. While working remotely has its real value, it's not until we: break bread together, pour some glasses, win and lose at at the card table and wander lost at the Mandalay Bay Conference Center, looking for the First Timer's Reception, but end up at the Pet Cemetery reception together, that we really get to know each other and feel part of the family."
Ryan Lynch, Product Manager
"It was great to be back at ICCFA after 2 years! Our team has been working hard on product developments and we were happy to have the opportunity to showcase these on the booth and receive in person feedback from customers and industry peers."